SXR stretch ceiling system is an innovative technology, a new design and a new way to decorate the space around you. SXR ceilings are a specific type of suspended ceiling. They are used in public utility buildings, offices, shops, schools, hotels, hospitals, swimming pools, sports halls or industrial bays as well as in apartment buildings, making it possible to complete interesting designs and decorate the interiors in a modern way in short time.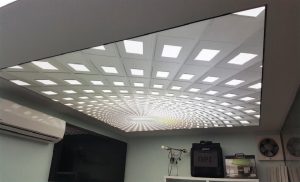 The assembly process take place by stretching the ceiling coating on an aluminium structure that has been fastened to the wall at any chosen height.
SXR is the only ceiling system that can be fastened to the walls. At the same time, SXR membranes fulfill several functions: It can lower the interior areas which are too high; it can cover the defects of old ceilings and hide any installations placed beneath the ceiling; it offers protection to the area below from damage caused by leakage from a water supply system; it has an attractive decorative finish, resembling the surface of water with a mirror reflection.