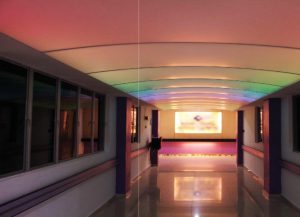 SXR color light uses innovative "white" counterpart SXR light technology, allowing it to illuminate every room with white or colorful brightness. SXR color light is a new solution in terms of illuminations,in which SXR translucent stretch ceiling is applied along with a light system in the form of dimmable fluorescent lamps or LED system in theree colors: red, green and blue (RGB).
Mixing of the colors on the ceiling surface can create almost 16 million colors. The combination of all teh three colors at one time, gives a white light.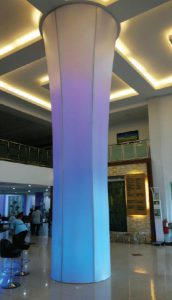 Depending on light intensity, SXR color light might be used for illuminating the room or as a decorative element. SXR light is a unique product for customers who appreciate the modern design combined with unique performance. SXR light allows you to create any mood with sequences of lights. These movements find their application in chromotherapy. SXR light can take the form of a ceiling, wall or as flat or 3D figures.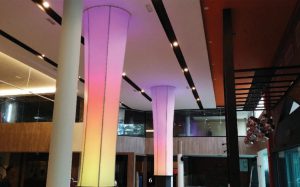 Each SXR light system can also be printed, perforated or acoustic. SXR color light can b
e applied in many spaces such as cinemas, restaurants, shopping malls, shops, airports, showroom, stands, etc.